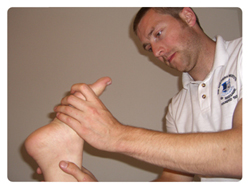 After finishing my University Degree, I found that I was desperate to find a job where I could genuinely help people, without having to sell or market anything which I didn't genuinely believe in myself.
I then spent many years travelling abroad, culminating in spending two years in China.
In China I was lucky enough to afford a massage at least once a week. When I returned to England, I couldn't help wondering just why I had felt so good after a massage, even though at the time I only went to them for general relaxation and stress relief.
Investigating massage further, I came across and enrolled at the Northern Institute of Massage in Bury, which is one of the best massage schools in the UK. There I was able to really learn why massage is so good for you and its wide-ranging remedial benefits. I added this to my experience of massage for relaxation and stress relief and soon realised that I had found the career I was looking for – a job where I can genuinely help people and improve their lives and make a difference.
With Massage Hands, my ethos is a dedicated approach designed to produce the best results possible for each patient, whether that is treating an existing injury or preventing it re-occurring.